Agricultural Greenhouse
Application:
Location: Spain
Project scale: 400kW
Location: Jiangyin
Project scale: 300KW
The greenhouse for agriculture is one of shed installation systems produced by our company. It has stable structure, high intensity and light transmission over 90%. Around agricultural greenhouse, you can carry out various activities, like education of agricultural knowledge, scientific research on agriculture, agricultural tour etc. Agricultural greenhouse offers an opportunity to people in city to be close to nature and to relax, to experience the beautiful place outside of city.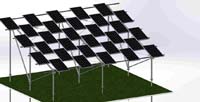 | | |
| --- | --- |
| Type | Agricultural greenhouse |
| Tilt | According to client's need |
| Arrangement | Vertical way |
| Proper module | Crystalline silicon modules |
| Material | Q235B |
| Surface treatment | HDG (hot dip galvanizing) ≥65UM |
| Wind pressure | 120km / h |
| Snow pressure | 0.9kN / m²or 30CM |
1. High power output.
2. It is free to adjust light transmission.
3. You can satisfy lighting requirement in agricultural greenhouse for different plants by modulating density between modules and lighting glass.
4. Water-saving
You can save water through built-in drainage system.
5. Automatic control of agricultural greenhouse
6. Panel power generation ensures auto light & water supply as well as temperature adjustment.
1. Compared with traditional greenhouse, our agricultural greenhouse has high output with PV power generation
2. It offer good environment for plants to grow.
3. Automatic temperature adjustment.
Akcome Accessories mainly include hook, clamp for iron sheet roof etc. If you need more information, please download relevant pdf.
Akcome Metals Technology (Suzhou) CO., Ltd is engaged in research and development of solar racking, mounting system, hardware etc. The shed installation includes aluminum car shed, steel car shed and agricultural greenhouse etc. Our company has gained good reputation in China and abroad. Akcome Metals Technology CO., Ltd has established branches in Beijing, Nanjing, Jiangyin, Nantong, Qinghai, Xinjiang, Liaoning, Zhuangzhou etc. Akcome Metals Technology CO., Ltd has established global network centered on Zhangjiagang It has established 80 sales networks in Taiwan, Japan, India, Canada, Brazil, France, German, Italy, South Africa and other areas.
Aluminum Car Shed

We provide various shed installation systems for household and commercial use. The shed installation includes ...
Steel Car Shed

We have various shed installation to need your needs. The steel car shed is designed with large span, which can ....
Bus Station Shelter

Bus station shelter is produced according to strict standards. It is designed for public use, for public service ...