Steel Multi-Span Car Shed
Application:
We have various shed installation to need your needs. The steel car shed is designed with large span, which can reduce cost on construction. Besides, it is endurable as it adopts steel structure.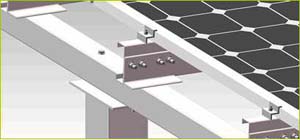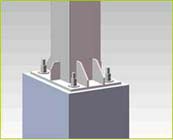 | | |
| --- | --- |
| Type | Steel car shed |
| Installation site | Ground level |
| Tilt | 5—15° |
| Arrangement | Vertical way |
| Proper modules | Crystalline silicon modules |
| Application scale | Factory, government, company |
| Material | Q235B |
| Surface treatment | HDG ( hot dipgalvanizing ) ≥65UM |
| Wind pressure | ≥65UM |
| Snow pressure | 0.9kN / m²or 30CM |
1. Easy installation
It is easy and convenient to install steel car shed because of the simple structure.
2. Endurability
The steel car shed is endurable as it supports steel structure.
3. Environmental-friendliness
The steel car shed can be recycled, thus it won't cause much damage to surroundings.
Akcome Accessories mainly include hook, clamp for iron sheet roof etc. If you need more information, please download relevant pdf.
Akcome Metals Technology CO., Ltd has obtained certification of ISO9001 (Quality management system) and ISO14001 (Environment management system). Our company has wined over 80 honors at home and abroad, including 2009 Entrepreneur 100, Top 100 enterprises in China, 2010 Forbes China Up & Comers, 2011 Forbes China Up & Comers etc. As wholly-owned subsidiary of Akcome Metals Technology CO., Ltd, Akcome Metals Technology (Suzhou) CO., Ltd is a professional manufacturer of mounting system, like solar racking, roof mounting system and shed installation. The shed installation is classified into aluminum car shed, steel car shed and agricultural greenhouse etc.
Aluminum Car Shed

We provide various shed installation systems for household and commercial use. The shed installation includes ...
Agricultural Greenhouse

The greenhouse for agriculture is one of shed installation systems produced by our company. It has stable ...
Bus Station Shelter

Bus station shelter is produced according to strict standards. It is designed for public use, for public service ...