Bus Shelter
Application of bus station shelter: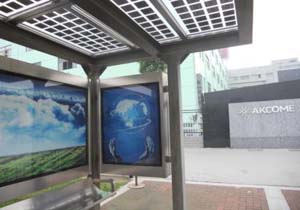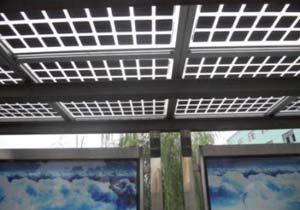 Location: Jiangsu, China
Project scale:: 2KW
Bus station shelter is produced according to strict standards. It is designed for public use, for public service. Bus stop shelter is featured by safety, endurability and high stability.
Bus station shelter can be used in bus station, park and rest area or Telephone booths.
1. Strict quality control
We have got certification of TUV, UL, CE, JET, JPEC etc.
2. Competitive price
Bus station shelter by our company has competitive price.
3. Fast delivery time
We can deliver goods very fast because of convenient transportation.
Akcome Accessories mainly include hook, clamp for iron sheet roof etc. If you need more information, please download relevant pdf.
As a subsidiary of Akcome Metals Technology CO., Ltd, Akcome Metals Technology (Suzhou) CO., Ltd is professional producer of mounting system and mold in China. Mounting system can be classified into, solar ground mount system, roof mounting system, BIPV mounting system and shed installation, bus station shelter etc.
Screw Pole Mount System

Screw pole mount system is applied in fixation of solar panel. It is fit for outdoor as the spiral pile mounting system adopts ...
Metal Roof Mounting System

Solar panel racking system is widely applied in installation and fixation of solar panel. The metal roof mounting system....
Solar Dual Axis Tracker

The solar dual axis tracker is designed for PV panel and it can orient payload towards the sun. Solar modules generate ...